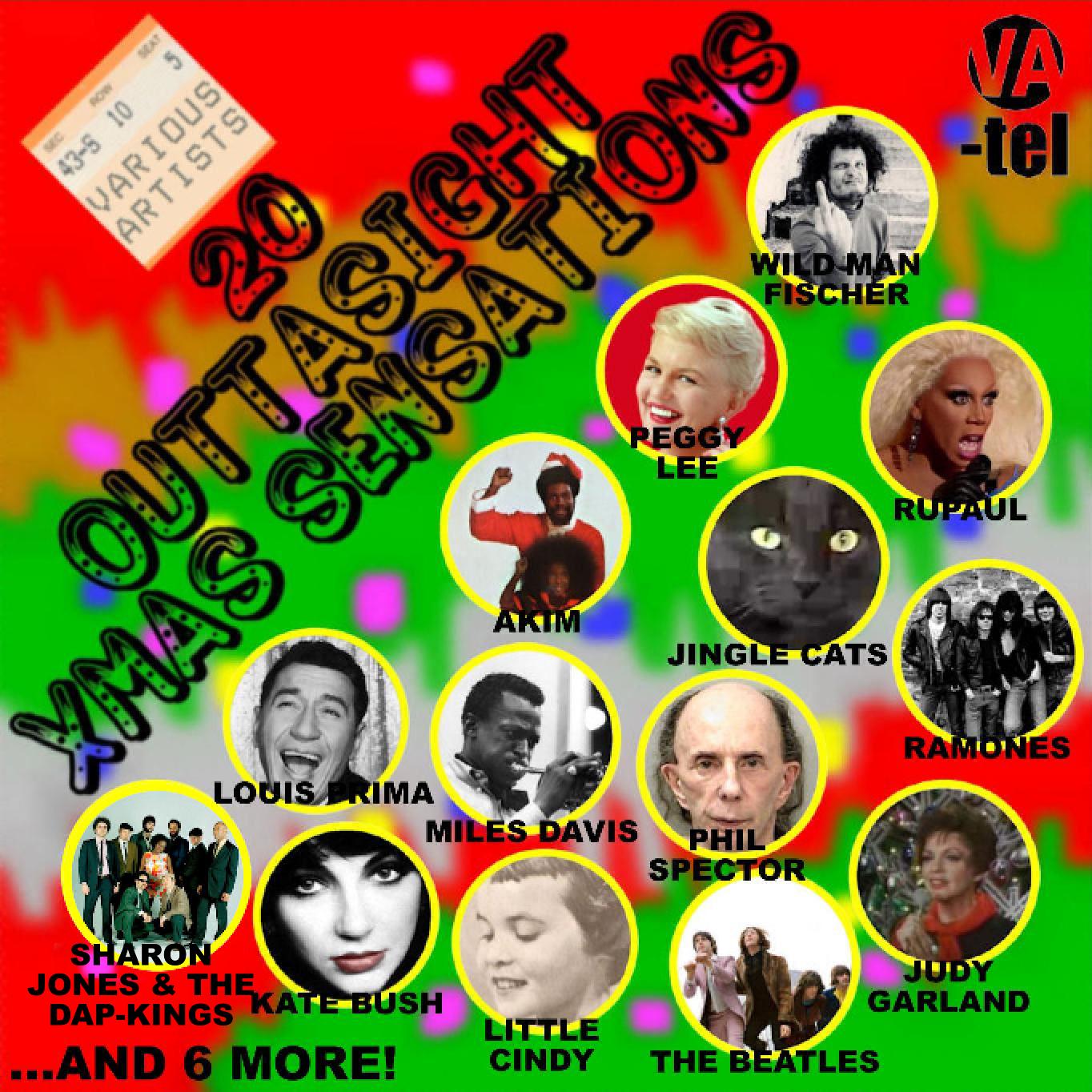 (Cover by VariousArtists; Pics grabbed from ye olde Internet)
20 Sensational Hits! 20 Sensational Stars!
Here's some fun'n'hip shakin' musical accompaniment for the annual Santafest.  This splendiferous list mostly avoids the obvious or overly solemn, and should get the gang groovin' at your seasonal shindig while helping to mask the sound of partygoers vomiting in the bathroom after too many Baileys … or drive everyone swiftly out the door, depending on the circles you run in.  (A playlist of this terrific 20 can be found over on my YouTube channel, VATV).
Cristina "Things Fall Apart" (1981)
The Ze Records' fashionably distracted diva gives us a snapshot of Christmas in NYC, downtown early 80s style. As C and boyfriend couldn't afford a tree, they instead "trimmed the cactus with my earrings that we'd meant to pawn." You two win Ten Martha Stewart accessory points, dahling.
[youtube https://www.youtube.com/watch?v=s5Xgktqp-Zw&hl=en_US&version=3&rel=0]
Vince Guaraldi "Christmastime Is Here" from A Charlie Brown Christmas (1965)
Ok, so this one is hardly obscure. Still, I never tire of Guaraldi's classic jazz soundtrack composed for the perennial favourite, A Charlie Brown Christmas, with the reflective and melancholic "Christmastime Is Here" as a particular highlight.
[youtube https://www.youtube.com/watch?v=YvI_FNrczzQ&hl=en_US&version=3&rel=0]
Little Cindy "Happy Birthday Jesus" (1959)
The retro Honey Boo Boo on Slim-Fast offers a treacly'n'creepy birthday high five to his mangerly nibs. Note the dripping anger and resentment coldly on display as Little Cindy hisses "they wanted you to diiiiiie." She also relates that Momma explained how Jesus is " watching everything we do / her and daddy and granny / and our new baby, too." Is this Happy Birthday Jesus or Happy Birthday NSA?
[youtube https://www.youtube.com/watch?v=5OnbupKZeo4&hl=en_US&version=3&rel=0]
James White (aka James Chance) "Christmas With Satan" (1982)
While Little Cindy questionably trills for the Christian team, James White/Chance skronks his way through his own strung-out junkie seasonal toast to the dark lord — creating one of my favourite Christmas chestnuts in the process. "There's no angels or wise men, and certainly no virgins." Well, of course.
[youtube https://www.youtube.com/watch?v=jz5kHC0g9HQ&hl=en_US&version=3&rel=0]
Louis Prima "What Will Santa Claus Say (When He Finds Everybody Swingin'?) (1941)
Indeed, what will Mr. Claus say when he emerges from the chimney to find that "even the kiddies are swingin' in the latest style?" Bloody hell, is nothing sacred?!
[youtube https://www.youtube.com/watch?v=Co_sNTUWRMA&hl=en_US&version=3&rel=0]
Akim and The Teddy Vann Production Company "Santa Claus Is A Black Man" (1973)
And won't certain racist dirtbags be in for one much needed shock by the chimney.
[youtube https://www.youtube.com/watch?v=AWlyJG-ojQk&hl=en_US&version=3&rel=0]
Berlin Symphony Orchestra "The Nutcracker Suite (Baz Kuts Breaks Mix)" (2006)
The modern day, downtown Nutcracker, with crunchy beats and two turntables.  It all hits a crescendo when the sirens kick in at 2:33.
[youtube https://www.youtube.com/watch?v=ZQDufqHGoMg&hl=en_US&version=3&rel=0]
Wild Man Fischer "I'm A Christmas Tree" (1981)
"I'm A Christmas Tree / I'm A Christmas Tree / Everybody hangs their ornaments on me."  And that's it from the ultimate outsider artist.  Almost haiku in its simplicity.
[youtube https://www.youtube.com/watch?v=c20MP-rFOw4&hl=en_US&version=3&rel=0]
Kate Bush "December Will Be Magic Again" (1980)
Winsome Kate ponders snowfalls covering over muck, black-sooted rooftops, Oscar Wilde and Bing Crosby.
[youtube https://www.youtube.com/watch?v=YmurdvXiswY&hl=en_US&version=3&rel=0]
Ramones "Merry Christmas (I Don't Want To Fight Tonight)" (1987)
Da bruddahs Ramones graduate from "wanna" to "want to" in this seasonal slice of Phil Spector-esque punk. Speaking of whom …
[youtube https://www.youtube.com/watch?v=4Y5GtaTrPHM&hl=en_US&version=3&rel=0]
Phil Spector and Artists "Silent Night" (1963)
While Spector's A Christmas Gift For You, featuring his stable of acts delivering some of the finest-ever versions of Christmas standards, is rightly regarded as a peerless classic of the genre, the LP's final cut rarely gets an airing and, perversely, is always a highlight for me.  The Tycoon of Teen himself snuggles up to the mic at the record's end, momentarily taking a break from throwing tantrums and threatening people with guns to gently address the listener: "Thanks so very much for letting us spend this Christmas with you."  And then it was back to throwing tantrums and waving guns at people.
[youtube https://www.youtube.com/watch?v=x52eGN-hDGM&hl=en_US&version=3&rel=0]
RuPaul "All I Want For Christmas" (1997)
Forget the two front teeth, RuPaul wants all of them capped along with some yuletide liposuction, a nose job, face lift, and some ribs removed.  Hope Ru's been nice rather than naughty.
[youtube https://www.youtube.com/watch?v=FC8JA3NHmKE&hl=en_US&version=3&rel=0]
Jingle Cats "White Christmas" (1993)
The furry felines of the Felice Navidad meow their furballs off with this fanciful interpretation.  It's the Cat's Meow!
[youtube https://www.youtube.com/watch?v=II3ZmtoZj74&hl=en_US&version=3&rel=0]
Sharon Jones & the Dap-Kings "Ain't No Chimneys In The Projects" (2010)
The Dynamite Ms. Jones and her equally TNT Dap-Kings meditate on this architectural impediment for Saint Nick.  Young Sharon queries her mom-unit about how the big guy can possibly get in and drop off the gifts in the chimney-free projects.  Momma tells her daughter a suspiciously specious tale that satisfies the tyke at the time, only for Sharon to grow up and realize that Santa was really Momma in red felt drag.  Exhibit A at the Chez Jr. Jones: Santa in panty hose.
[youtube https://www.youtube.com/watch?v=8MKCR8FVAxI&hl=en_US&version=3&rel=0]
Peggy Lee with the Benny Goodman Orchestra featuring Art Lund "Winter Weather" (1941)
Who needs a stinkin' Michael Kors double-breasted pea coat when you have your love to keep you warm.  Peggy Lee certainly didn't.  But couldn't she have done better than Art Lund?
[youtube https://www.youtube.com/watch?v=EG9DA-dSu8Y&hl=en_US&version=3&rel=0]
Marcel and the Pterodactyls "Merry Fucking Christmas, Asshole" (2014 Video Mix)
Hasn't everyone wanted to utter this to someone at some time?  And with this much sonic obnoxiousness to boot?
[youtube https://www.youtube.com/watch?v=DQeA1syttk8&hl=en_US&version=3&rel=0]
The Waitresses "Christmas Wrapping" (1982)
As with the Charlie Brown number, I never tire of this one either.  Manages to be both cheerful and snotty.
[youtube https://www.youtube.com/watch?v=nud2TQNahaU&hl=en_US&version=3&rel=0]
Miles Davis with Bob Dorough "Blue Xmas (To Whom It May Concern)" (1963)
The best ever raspberry flung at the season, Miles smoothly glides behind boppin' Bob Dorough's acid lament over skinny Santas, hypocrites, bad taste, and a bevy of falderal.
[youtube https://www.youtube.com/watch?v=mAh3Qx1zMzY&hl=en_US&version=3&rel=0]
The Beatles "1968 Christmas Fan Club Record"
What started out as cute "Thank You and Merry Christmas" messages on flexidiscs to their fanclub in 1963 had turned into utter surreality by decade's end.  Recorded during the sessions for the fractuous "White Album," the bizarreness hits its K2 when Tiny Tim appears at 5:29, eventually trilling "Nowhere Man."
[youtube https://www.youtube.com/watch?v=bbrNp18MIV4&hl=en_US&version=3&rel=0]
Judy Garland "After the Holidays" (on The Johnny Carson Show, December 1968)
And now, to end on a post-holiday downer.
I believe this was Garland's last ever US TV appearance and it's as heartbreaking as it is powerful.  I find myself increasingly drawn to her later performances, and this might be my all-time-favourite.  She doesn't always hit her marks and her voice at times is frail and shaky, but it's well lived in.  These elements simply add to the pathos in a song that is essentially "let's pretend everything is alright just so I can get through the holidays unalone … then you can leave me and I can kill myself."
It's key that one understands where Judy's life and career were when this was filmed.  Her movie star days were done, her TV series long cancelled, her health and finances were a mess, and her public performances were becoming spotty at best, and that's when she bothered to show up at all.  She'd been abandoned by or alienated many around her, had gone through a series of short, bad marriages. Meanwhile, her beloved younger children were now living in a stable environment with their father, Sid Luft, while Liza was very much out on her own establishing a career. It wasn't a happy time for Judy.
The deep sadness she communicates in this song is very real.  Watch her wipe a tear away before even singing the first word.
I've often wondered while watching this clip, and that of the other number she performed on this night, "It's All For You," if she was thinking of her audience when she sang these numbers.  It's as if she knew what was coming.
A half year later she was dead.
[youtube https://www.youtube.com/watch?v=dQImxftiJAo&hl=en_US&version=3&rel=0]
And on that chipper note …
Merry Christmas (or whatever you choose to celebrate) to all, and to all a good night.
See you on Open Salon in 2015!
Cheers, VA.
Previous Christmas-Themed Entries:
Xmas #1: December 1986: My 3 Xmas Weekends From Hell Snuggle in for a heartwarming seasonal tale of being a store manager and having to endure armed robberies, flouncing Christian employees, slap-happy Santa helpers, and looting mall rats. Merry Christmas to one and all!
Xmas #2: Twisted Seasonal Sounds: A John Waters Christmas The Pope of Filth curates what is probably the most "unique" collection of seasonal tunes on the market, filled with redneck children singing Happy Birthday to Jesus, ornery tourette-inflected C&W, Theremin-driven toe tappers, and other joyfully questionable sonic Christmas delights.
Xmas #3: Ludicrous Seasonal TV: Star Wars Holiday Special George Lucas once said of this special "If I had the time and a sledgehammer, I would track down every copy of that show and smash it." Read here and find out why.
Xmas #4: KA-CHING-A-LING: Xmas Advertising Highlights 1949-2011 A collection of seasonal ads from my magazine archives, taken from a variety of international publications spanning 60 years. Which items were singled out as worthy Christmas lucre from then until now, and how were these retail treasures flogged and positioned? And what do you need and need to know about seasonal entertaining: the booze, the turkey and fixins, the cards, the decorations, and so on, as well as how to capture it all for posterity.
Xmas #5: Christmas Advertising: LIFE Magazine, November 30, 1959 This entry zeros in on the Christmas-related ads featured in a single issue of LIFE from November 30, 1959. What was being proffered up as gifts and seasonal accoutrements during those final weeks of the 1950s, and how were they being depicted and sold? These specimens bark out the rigidity and restrictions of the day as the epoch of the 1960s was about to commence.
Xmas #6: I Believe In Father Christmas, or: Brown Shoes Don't Make It We all find out the truth about Santa Claus at some point.  Here is my story of crestfallen discovery and it involves … my dad's shoes.
Xmas #7:  VariousArtists' 12 Days of Christmas Viewing A dozen alternative xmas-y eyeball suggestions that you may wish to consider, even if a few of them take liberties with the concept of being Christmas-related (and two look forward to New Year's Eve).
Next On Stage –> My annual recap of musical favourites from the past year will go up in January before finishing up my look at Ottawa Bluesfest 2013 and then a more permanent return to the distant past …
VA's Best of 2014: Fave Music, Media and Re/Discoveries From The Century's Inaugural Teen Year
178c. Declare Independence: Ottawa Bluesfest 2013 (Pt. 2) with Björk, B.B. King, Phosphorescent, Austra, Stars, and more, July 13-14, LeBreton Flats, Ottawa, Ontario, Canada
025. Here I Am: UB40, Centennial Hall, London, Ontario, March 7, 1984; Alumni Hall, UWO, London, Ontario, March 14, 1985

026. Cities In Dust: Siouxsie & the Banshees with Images In Vogue, International Centre, Toronto, Ontario, July 10, 1984