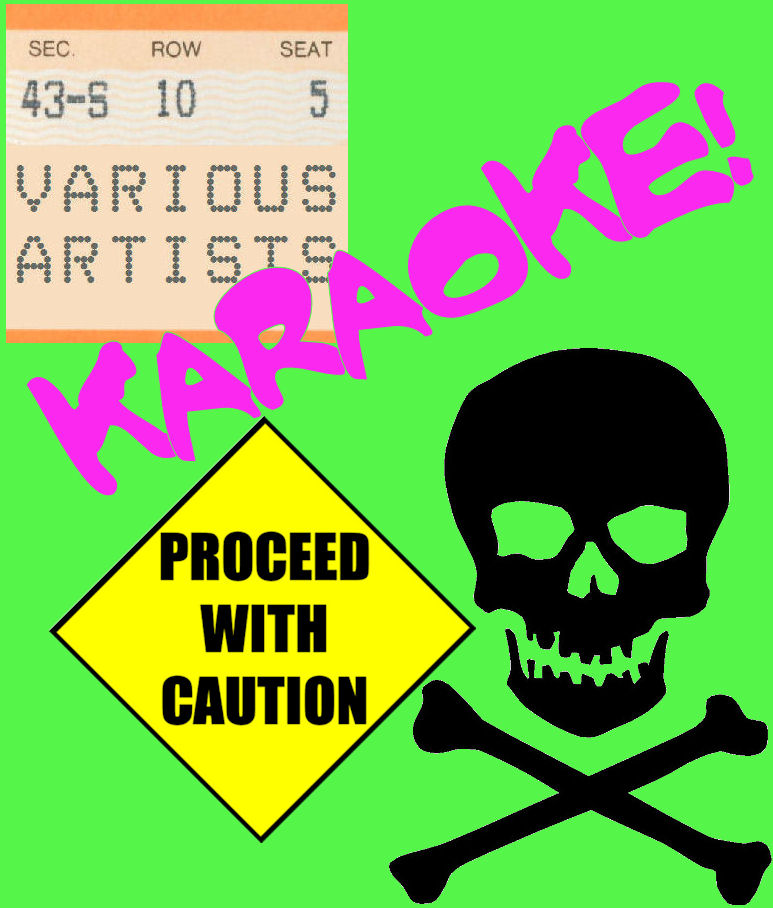 "Fasten your seatbelts.  It's going to be a bumpy night." Bette Davis as Margo Channing in All About Eve.
NOTE:

Image repairs underway (images linked over to my opensalon.com page disappeared when the site closed).  Eventually all images will be restored.  Thanks for your visual patience. 
YOURS, THE MANAGEMENT
NOTE: I've been off the blog for another periodic pause.  More is coming, but in the interim I'm throwing this silly quickie out there.  Mind you, it does explore a fantasy I've long had …
I hate Karaoke.  Passionately.  Singularly.  I have friends who simply love it, and bless 'em … but I Do Not Get It.  When I've been at Karaoke nights, my experience has been that of tunes I mostly can't stand in the first place being murdered.  Hell ya, I'll have some of that.
Of course, the right kind of badness can be fun.  However, as a self-appointed connoisseur and enthusiast of Great Badness, I gotta say that most Karaoke for me is not within Badness' positive spectrum.
But what if it was?  Rather than being a "Shoot me now!" experience, what if it instead was a "WTF?  WTH? ???? Has David Lynch or John Waters shown up?" kind of a time? Why does Karaoke have to be all Ishtar or From Justin To Kelly when it could be Valley of the Dolls, Glen or Glenda?, or Showgirls?
What would that look like?  What factors would differentiate delightfully galled hilarity from simply tedious?  Would I then be entertained and enjoy the experience?
I think my perfect Karaoke experience would
* need to take place at one of any town's divy-er joints (sawdust rules!);
* involve well-lubricated-and-then-some participating patrons;
* the more aggressively out of tune and out of sync a Karaokier is = YES PLEASE!;
* grandiose theatrical gestures during the performance that dig at you as "What was I thinking?" the next day = strongly encouraged;
…and, most importantly of all…
* need to be stacked with tunes that are probably either unperformable or simply ludicrous.   A Karaoke of the absurd like no other.
With all that in mind, I have made ten fairly Karaoke-unfriendly selections that I would be thoroughly delighted to see attempted.  Were some truly ambitious Karaokers to take this challenge on, I'll be there with bells on.  So, fellow inebriated tavern songbirds, let's get things rolling with …
1. Life Is A Rock (But the Radio Rolled Me) Reunion (1974)
First up is this bowl of word soup.  Your jaw muscles should be fully toned after this enunciation workout.
2. Paralyzed The Legendary Stardust Cowboy (1968)
For those of you who are so polluted that correctly pronouncing entire words — let alone constructing grammatically correct and intellectually stimulating sentences — is a chore just out of reach, this is the perfect Karaoke number for you.  Enjoy emulating the Legendary Stardust Cowboy's word-unfriendly shrieks, yells and hollers.  You do grab a break during the horn solo, though.  Funnily enough, watching his chaotic performance on Rowan and Martin's Laugh In in 1968, you can see that the track did indeed have some structure.
And David Bowie does a brief performance of Paralyzed here.  Actually, I would prefer it most of all if Bowie himself was the karaoke performer for this one.
I would also thoroughly enjoy seeing a phonetic translation of the vocals.
BTW, that's T-Bone Burnett on drums.  No, really.
[youtube=http://www.youtube.com/watch?v=9EEZAivzl1Q]
3. Mr. Jaws Dickie Goodman (1975)
You have your options with this one: you could have one person bravely doing everything or it could be a duet, with Person A as the announcer and Person B singing every snippet from a parade of mid-70s hits.
[youtube=http://www.youtube.com/watch?v=QIzkq0VC_A8&w=484&h=363]
4. My Pal Foot Foot The Shaggs (1969)

Forced into being a group by a delusional, bullying father, the Wigan Sisters from Fremont, New Hampshire wrote shockingly naive songs about transistor radios, runaway cats, and duty to parents. Their 1969 debut, Philosophy of the World, is a beyond-incredulous document composed of 12 tracks with algorithms that defy mapping.  Their best known tune, about beloved pet Foot Foot, will need to be delivered as a Karaoke duet as the dulcet tones of both Dot and Betty are present in the song.  Good luck trying to hit your vocal marks as The Shaggs rarely bothered with such things as meter.
[youtube=http://www.youtube.com/watch?v=d71b7P3SxyM&w=484&h=363]
5. Meow Mix Song
You have the option of singing this one in either "English Translation" or "Cat," but someone must cover off the mellifluous harmony of "Meows" during the break.
[youtube=http://www.youtube.com/watch?v=LTunhRVyREU&w=484&h=363]
6. Mah Nà Mah Nà The Muppets (1969)
Actually, this one might be fun.  And a trio performance needed, to boot.Fact: Did you know that this Sesame Street signature song originated in Euro sorta-skin flick, Sweden: Heaven and Hell.
[youtube=http://www.youtube.com/watch?v=1i-L3YTeJJM&w=484&h=363]
7. 4'33 John Cage (1952)
There's a bottle of Cointreau with your name on it for anyone who can successfully pull this one off in a bustling boozecan.
[youtube=http://www.youtube.com/watch?v=zY7UK-6aaNA]
8. The Great Gig In The Sky Pink Floyd (1973)
I'm hearing drunken screeching. I'm seeing tube tops and acid wash.
[youtube=http://www.youtube.com/watch?v=ZAydj4OJnwQ]
9. Cambridge 1969 John & Yoko (1969)
Start by hitting a tone, and then Lennon will jump in with a guitar feeding back.  Now, all you have to do is match the tone with your voice.  For 27 minutes.  No bathroom breaks.
[youtube=http://www.youtube.com/watch?v=S_ScyKztGA0]
10. Remember Your Name & Address (& Telephone Number Too!) Frank Luther (1960)
This should be a mandatory bar-closing sing-a-long to a group of pickled patrons about to begin the Stumble Waltz home.  I know that having this clear in my head would not have done me ill on some nights back in the day.
As for those "dear ones who wait for you," … the drunk tank coterie, perhaps?
Okay everyone, memorize this before you hit the streets: And-a-one, and-a-two …
[youtube=http://www.youtube.com/watch?v=UveLqj1VK6w]
Next On Stage –> I will be publishing a piece on one show from this year's Ottawa Bluesfest (Blondie) and will finish my delayed recap from last year.
Then I will return to the past where the concert aspect of my blog will strongly focus on. Shows from yesteryear — and my related experiences and impressions on the gig, artist or era —  were supposed to be the backbone of my blog. The reality is that I still go and see so much live music that it is predominating the concert writing. I can't even catch up to pieces on the present, let alone the past.  So, while I will still be writing about some contemporary shows, they too will largely be covered off some time down the road.
Coming up next …
185. In The Flesh: Blondie, Ottawa Bluesfest, LeBreton Flats, Ontario, August 10, 2014
178b. Enjoy Yourself: Ottawa Bluesfest 2013 (Pt. 1) with The Specials, The Waterboys, Animal Collective, Solange, Balkan Beat Box, and more, July 8-12, LeBreton Flats, Ottawa, Ontario, Canada
178c. Declare Independence: Ottawa Bluesfest 2013 (Pt. 2) with Björk, B.B. King, Phosphorescent, Austra, Stars, and more, July 13-14, LeBreton Flats, Ottawa, Ontario, Canada
… and then back to …
025. Here I Am: UB40, Centennial Hall, London, Ontario, March 7, 1984; Alumni Hall, UWO, London, Ontario, March 14, 1985
.


026. Cities In Dust: Siouxsie & the Banshees with Images In Vogue, International Centre, Toronto, Ontario, July 10, 1984