(NOTE: This entry pertains specifically to Open Salon (now closed), my blog's more visible home, but I am posting it here too.  On November 27, 2013, the last update was made to the site's main page: it has remained frozen in time ever since.  This entry "celebrates" this anniversary.)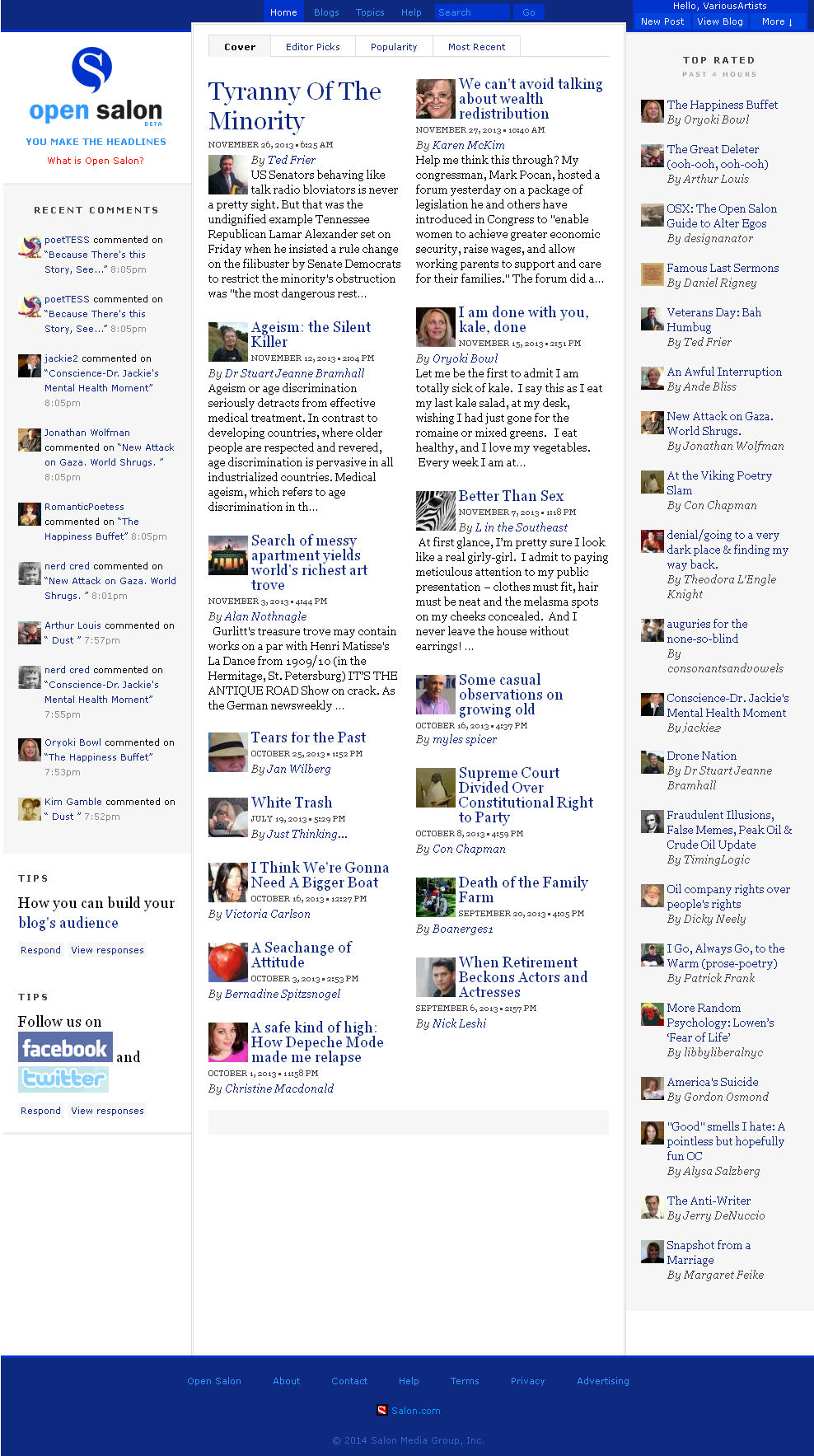 Look familiar?
An important OS anniversary beckons, one that deserves our attention and commemoration.  I am of course referring to November 27, 2014: one year to the day when the OS front page became frozen in time.
But how to mark the occasion? Certainly there are many creative OS-ers out there who could put their imaginative Thinking Caps on and come up with some fitting creations to celebrate this august event.  Consider the following:
•    Ice sculptures could be created depicting contributor icons on the page.
•    Poems could be written utilizing only words found on the front page.
•    Dramatic readings of the page's headlines could be filmed and uploaded.
•    Any talented slide guitar players out there who could write and perform "(I Got Them Old) OS Front Page Ain't Never Changin' Again Blues, Mama"?
•    Or, in a different musical vein, an avant garde choral piece of one note held in perpetuity.
•    How about an interpretive dance piece reflecting key themes on the page? (Any budding Martha Graham's out there?)
•    Artists could produce painted renditions of the cover utilizing a range of styles: realism, abstract impressionism, minimalism … or even a performance art installation piece.
Maybe we could have an open call where we each write about what our lives were like prior to Nov. 27.  Or a list of all key births, deaths and significant world events that have occurred since the page froze.
Maybe Salon itself could use this digital sedentary anniversary to make enough money to hire someone on to goose the front page.  Here are some potential limited edition commemorative items they could flog as fundraisers: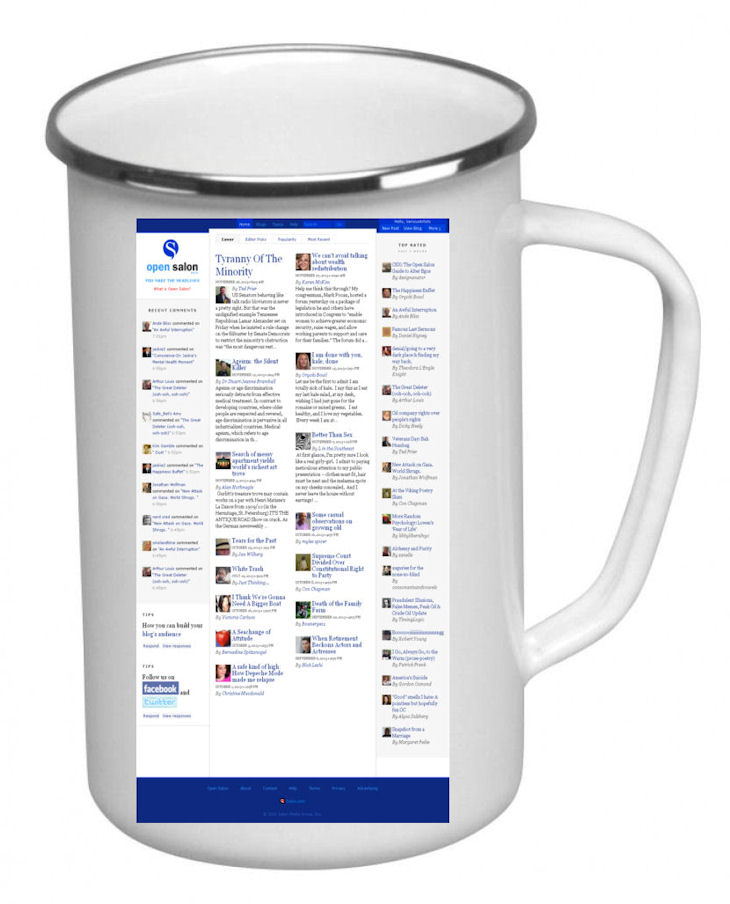 Frozen OS Front Page Mug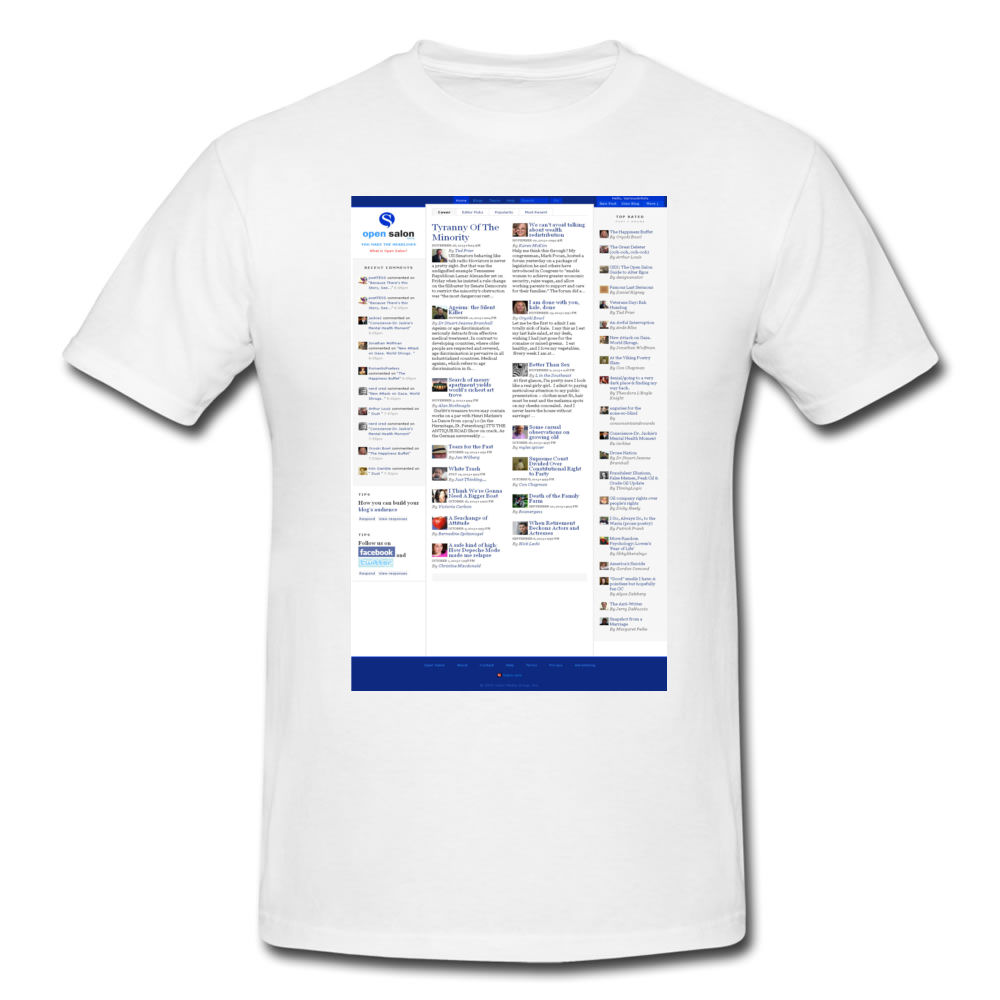 Frozen OS Front Page T-Shirt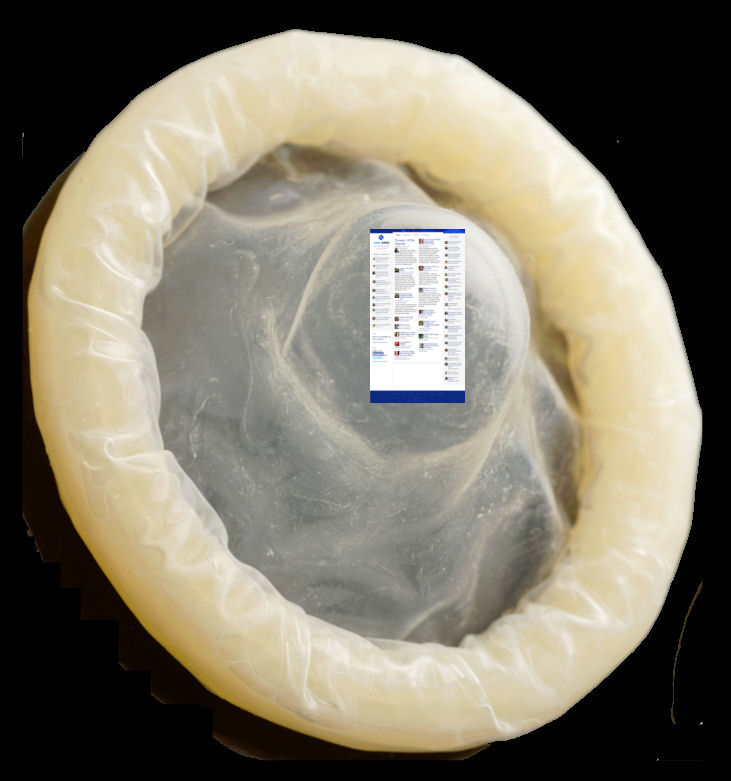 Frozen OS Front Page Condoms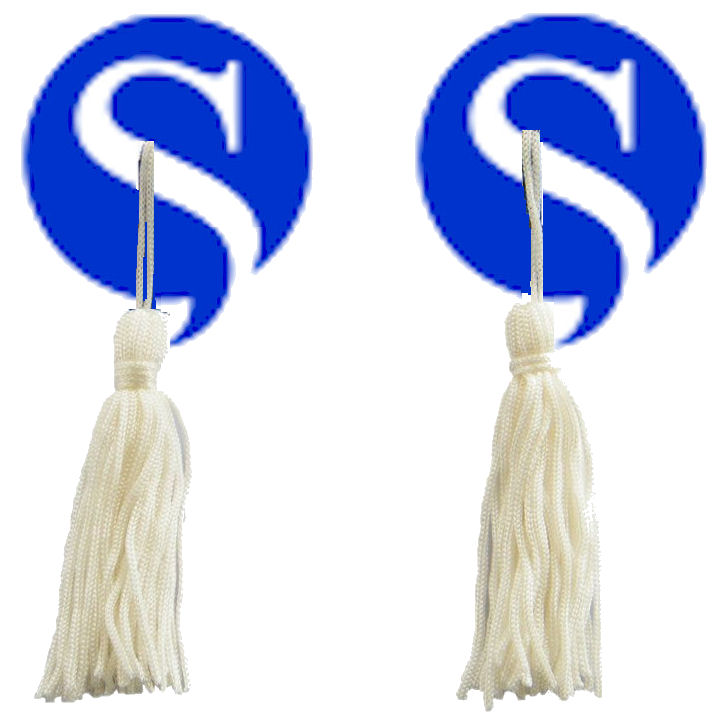 Frozen OS Front Page Pasties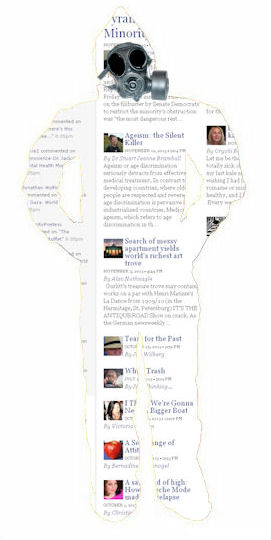 Frozen OS Front Page Hazmat Suit
Or perhaps they could use the income from these items for a bit of advertising …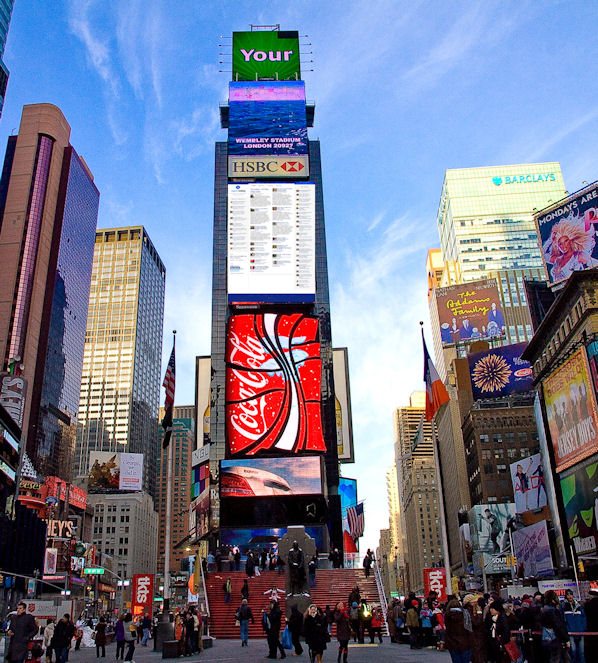 Finally, an occasion like this calls for a drink, so how about mixing a Frozen OS!
Frozen OS
•    2 ounces white rum
•    3/4 ounce syrup (1 part water, 2 parts sugar dissolved into 1 part boiling water, left to cool and thicken)
•    1 ½ ounces of lime juice
•    add crushed ice and garnish with a frozen sour grape
(OK, so it's basically a Frozen Daiquiri with the grape thrown in, but it'll do.)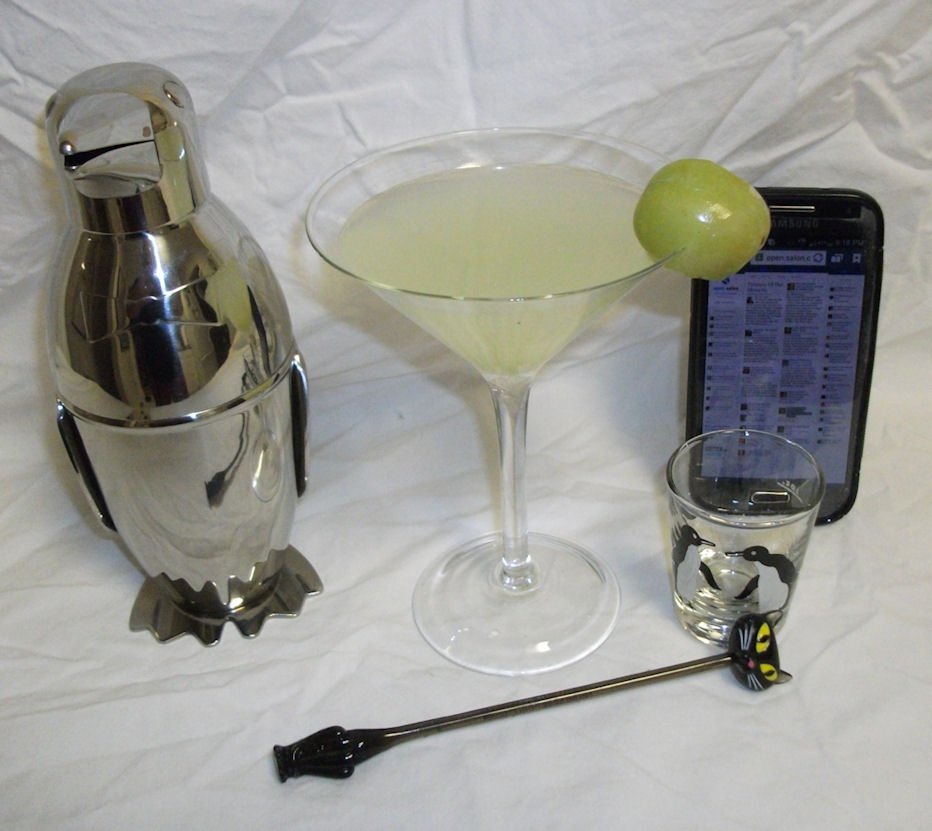 Drink. Swallow.  Pontificate on OS.
Happy soon-to-be First OS's STIFF (Still There In Frozen Frigidity) Front Page Anniversary!
Next On Stage –> A jump back to last year to finish my Ottawa Bluesfest entries and then a few Xmas entries …
178b. Enjoy Yourself: Ottawa Bluesfest 2013 (Pt. 2) with The Specials, The Waterboys, Animal Collective, Solange, Balkan Beat Box, and more, July 8-12, LeBreton Flats, Ottawa, Ontario, Canada
178c. Declare Independence: Ottawa Bluesfest 2013 (Pt. 3) with Björk, B.B. King, Phosphorescent, Austra, Stars, and more, July 13-14, LeBreton Flats, Ottawa, Ontario, Canada
… and then it's back to the past where I'll largely be staying with my series …
025. Here I Am: UB40, Centennial Hall, London, Ontario, March 7, 1984; Alumni Hall, UWO, London, Ontario, March 14, 1985

026. Cities In Dust: Siouxsie & the Banshees with Images In Vogue, International Centre, Toronto, Ontario, July 10, 1984